Foreword on Divine Mercy - Neville Carvalho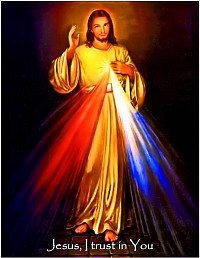 Image of Divine Mercy
The reason I decided to include a section on the Divine Mercy is because I can testify based on my own personal experience multiple 'miracles' that have been obtained / granted and attributed to the Novena to Divine Mercy! Therefore, my hope is that through this site 'others will come to know' and have an understanding and devotion to the Divine Mercy.
What could be a better way to achieve a better understanding than to request an individual quite well versed with the Divine Mercy history hence, my request to Joe Pereira to share his thoughts and insight.
I have put together my own version of a 'Musical Rendition' of the Chaplet of Divine Mercy on this very site.
My few words on Divine Mercy is summarized below:
The Divine Mercy Message and Devotion:
The message of The Divine Mercy is simple. It is that God loves us – all of us. And, he wants us to recognize that His mercy is greater than our sins, so that we will call upon Him with trust, receive His mercy, and let it flow through us to others. Thus, all will come to share His joy.
The Divine Mercy, also known as the Divine Mercy of Jesus is a devotion to Jesus Christ associated with the reputed mystical apparitions revealed to Saint Faustina Kowalska.
Thoughts & understanding on Divine Mercy - Joe Pereira
Praise the Lord for his unfathomable Divine Mercy! Thank you for the opportunity to share my thoughts and understanding of Divine Mercy. My first exposure to Divine Mercy happened some years ago at a gathering at a friend's home. The family began praying a rather strange and new to me prayer using the rosary beads. I was struck by the devotion with which this family prayed, and especially their young children. I didn't understand the significance of the prayer at that time, and I soon forgot about it. Months later the devotion picked up amongst other groups, reciting that same chaplet, but they went further and distributed images of Divine Mercy and even a Novena that began of Good Friday! Now, now, now!, I thought, how can anyone suggest a novena to begin on Good Friday, that's sacrilegious! I did not understand! Eventually I did learn to recite the chaplet, but it still did not mean anything significant to me! I considered it as simply one of the many private devotions, and admittedly it didn't have much significance in my faith and belief. All this time, reciting the chaplet was just a little more than a routine recital. We migrated to Australia 6 years ago. The move wasn't easy and adjusting to a new way of life was challenging and often despairing. In our search for fulfilment, and meaning to our lives, we began with church hopping, took to reading some religious literature and watching Christian teachings on YouTube and the like. Eventually we joined some prayer groups. And that is when we learnt more about the Divine Mercy. Divina bought the book, Diary of Saint Faustina Kowalska, in which she recorded Our Lord Jesus' messages to Saint Faustina about His Divine Mercy. At around that very same time, we learnt about the meaning and origin of the devotion of Divine Mercy at a talk led by Fr Michael. That talk opened and set alight a fire in my heart! How blind I was! How wonderful our Lord is, how merciful He is! We pray and hope that all men may know and turn back to Him, the Way, the Truth and the Life!
Joe and Divina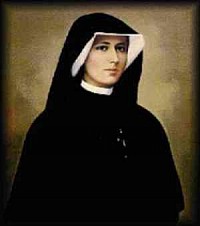 St.Faustina Kowalska
THE DIVINE MERCY
Is the concept of the Divine Mercy, new? Absolutely not! It is ingrained in the very depth of the Word from the beginning of time! Our Lord revealed to Saint Faustina His message with a call for renewal and to turn back to His Mercy!
So what is it all about? This highly abridged story and the message of Divine Mercy cannot do true justice to the profound story and message.
Saint Faustina is known today as the Apostle of Divine Mercy, a saint of modern times. Born in Poland in 1905 with the name Helena, in a family of ten children, she saw a vision of our Lord when she was a teen! That was the beginning of many visions, and at age twenty joined the Congregation of Our Lady of Mercy and took the name Sr Maria Faustina. Here she lived a very simple natural life, very kind to others, serene, and worked humbly as a cook, gate sentry and gardener. She also suffered a lot and was consumed by tuberculosis.
Yet her life was filled with extraordinary gifts: revelations and visions from the Lord and Our Lady, participated spiritually in the Passion of our Lord, had stigmata( the five wounds of Crucified Jesus) though it was not known to others then and she could read human souls and prophesying!
He life in the spirit was more real to her than the life of this world! She had a very close relationship with God the Holy Trinity, Our Lady, the angels, the saints and also the souls in Purgatory. She communicated with God and did nothing without involving Him and seeking His permission. She truly lived in Him!
In 1935 Jesus said to Saint Faustina, "You will prepare the world for my second and final coming." "I am sending you with my mercy to the people of the WHOLE WORLD!" "Mankind will not have peace, until it turns with TRUST TO MY MERCY".
She accepted her innumerable sufferings and illnesses as a willing sacrifice for sinners She died at the age of 33 in 1938.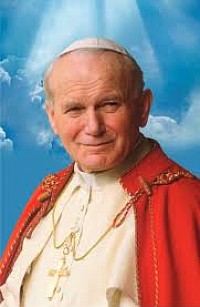 St.John Paul II
Saint Pope John Paul II, known as the Pope of Divine Mercy canonized Saint Faustina , the first Saint of the Millennium on the first Sunday after Easter in the year 2000, the Sunday of Divine Mercy!
The message of Divine Mercy are five -fold and may be easily remembered by the letters of the name of the bird FINCH
F - Feast of the Divine Mercy
I – Image of the Divine Mercy
N – Novena of the Divine Mercy
C - Chaplet of the Divine Mercy
H – Hour of great Mercy ( three o'clock in the afternoon)






F – FEAST OF DIVINE MERCY (DIVINE MERCY SUNDAY)
Our Lord requested at least in 14 different messages that a Feast Of Mercy be officially established in the Church. He said, "I desire that the first Sunday after Easter be the Feast of Mercy." "I desire that the Feast of Mercy be a refuge and shelter for all souls, and especially sinners(!).On that day, the very depths of My tender MERCY are OPEN. I pour out whole OCEAN of GRACES upon those souls who approach the FOUNT of MY MERCY.
The soul that goes to CONFESSION and receive HOLY COMMUNION shall obtain COMPLETE FORGIVENESS of SINS AND PUNISHMENT! On that day, all the divine floodgates through with graces flow are opened."
He also said, "Souls PERISH IN SPITE of My bitter PASSION. I am giving them the LAST HOPE of SALVATION, that is, the FEAST OF DIVINE MERCY"
to place COMPLETE TRUST IN HIM,

to carry out works of mercy,

be in a state of grace through the sacrament of confession

receive Holy Communion
Pope John Paul's last homily was about Divine Mercy. He had prepared his homily for Divine Mercy Sunday in 2006. He died on the eve of the Feast that year!
Image of Divine Mercy
I - Image of Divine Mercy
In February of 1931 SR Faustina had a vision of Our Lord. She saw the Lord Jesus in a white garment. His right hand was raised in the gesture of Blessing, the left was touching his garment at the breast. Two large rays, one red, the other pale, emanated from the left side of the breast.
Jesus told her, "Paint an image of the image that you see, and at the bottom of the image signed with the words JESUS, I TRUST IN YOU."
"I promise that the soul who will venerate this image will NOT PERISH. I also promise victory over its enemies here on earth, especially AT THE HOUR OF DEATH. I Myself will defend it as My own glory."
St Faustina asked what the rays meant. Jesus said,
" The pale ray stands for the WATER – this makes soul righteous.
"The red ray stands for the BLOOD - this brings LIFE to the soul.
These rays gushed forth from the depths of my most tender Mercy at that time when my agonizing heart was pierced by the lance.
Happy is the one who will dwell in their shelter."
The words – "Jesus I trust in You" reminds us to put all our trust in Him and show MERCY towards others.
N -NOVENA
Jesus ASKED that the Feast of Divine Mercy be preceded by a NOVENA, which would BEGIN on GOOD FRIDAY. He gave Sr Faustina one intention for each day of the NOVENA
Day 1 - For all mankind
Day 2 - For Priests and Religious
Day 3 - For all faithful souls
Day 4 – For those who do not YET know Him
Day 5 – For the separated brethren
Day 6 – For the children
Day 7 – For the souls who GLORIFY His MERCY
Day 8 – For the souls in Purgatory
Day 9 – For souls who have BECOME LUKEWARM

C- CHAPLET OF MERCY
Jesus said to Sr Faustina: "Say unceasingly this chaplet that I have taught you. Anyone who says it will receive great MERCY at the HOUR OF DEATH.
Priests will recommend it to sinners as the LAST HOPE.
Even the most hardened sinner, if he recites this chaplet even once, will receive grace from my infinite MERCY. I want the whole world to know MY INFINITE MERCY. I want to give unimaginable graces to those who TRUST in My MERCY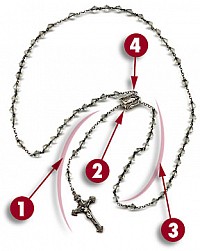 How to pray the Chaplet
1. Begin with the Sign of the Cross, 1 Our Father, 1 Hail Mary and The Apostles Creed.
2. Then on the Our Father Beads say the following:
Eternal Father, I offer You the Body and Blood, Soul and Divinity of Your dearly beloved Son, Our Lord Jesus Christ, in atonement for our sins and those of the whole world.
3. On the 10 Hail Mary Beads say the following:
For the sake of His sorrowful Passion, have mercy on us and on the whole world.
(Repeat step 2 and 3 for all five decades).
4. Conclude with (three times):
Holy God, Holy Mighty One, Holy Immortal One, have mercy on us and on the whole world.
H – HOUR OF GREAT MERCY
Jesus asked Saint Faustina to celebrate this Hour of Great Mercy, promising tremendous graces both for ourselves and on behalf of others.
Jesus said, At three o'clock, implore My mercy, especially for sinners; and, if only for a brief moment, immerse yourself in My Passion, particularly in My abandonment at the moment of agony. This is the hour of great mercy ... In this hour I will refuse nothing to the soul that makes a request of Me in virtue of My Passion."
"As often as you hear the clock strike the third hour immerse yourself completely in My mercy, adoring and glorifying it, invoke it's omnipotence for the whole world, and particularly for poor sinners, for at that moment mercy was opened wide for every soul.
In this hour you can obtain everything for yourself and for others for the asking; it was the hour of grace for the whole world - mercy triumphed over justice.
Try your best to make the Stations of the Cross in this hour, provided that your duties permit it; If you are not able to make the Stations of the Cross, then at least step into the chapel for a moment and adore, in the Most Blessed Sacrament.
Should you be unable to step into chapel, immerse yourself in prayer there where you happen to be, if only for a very brief instant.
Three O'Clock Prayer:
You expired, Jesus, but the source of life gushed forth for souls, and the ocean of mercy opened up for the whole world.
O Fount of Life, unfathomable Divine Mercy, envelope the whole world and empty Yourself out upon us
And then, three times,
"O Blood and Water, which gushed forth from the Heart of Jesus, as a fount of mercy for us, I trust in You"
You may recite the Chaplet after this